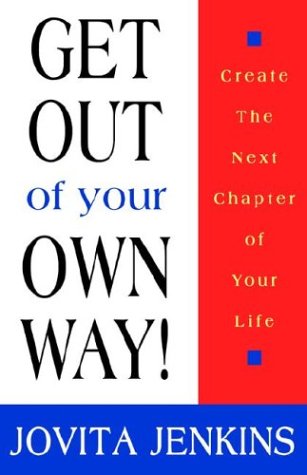 Hardcover Book – $24.95
ISBN – 0-9749887-0-7
Paperback Book – $19.95
ISBN – 0-9749887-1-5
Audio 2-Disc Set – $24.95
In Get Out Of Your Own Way (Ajides Publishing), the insightful and inspiring debut offering from success strategist and executive coach Jovita Jenkins, readers are challenged to think differently about their lives and overcome roadblocks to success. With the honesty of an old friend and the insight of a professional coach, she leads them on an intense journey of self-discovery that sets them on the path towards creating a compelling new chapter of their lives.
In her professional coaching practice, Jovita works closely with clients to help them discover their path, set goals, and create an action plan to implement them. In Get Out Of Your Own Way , she brings her tried and true prescription for success to her readers and empowers them to be more focused, confident, and successful.
Jovita's strategies are enlightening, her style is engaging and will help even the most inflexible person retrain their brain, discover their passion and purpose, and begin living the life they've envisioned.